Bilbao (Spain) – 28th – 30th September, 2016
Mecwins is participating in the next 8th International Meeting on Biotechnology (Biospain 2016) to be held in September 28th – 30th in Bilbao (Spain). Mecwins will attend this conference along with other companies participated in the CRB Bio II Fund managed by our investor CRB Inverbío, silver sponsor at this conference.
BIOSPAIN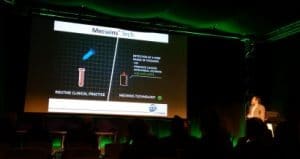 is the largest biotech event organized by a national bioindustry association in Europe and one of the largest in the world by the number of one-to-one meetings (+3.300) and companies participating (+850). 34% of our delegates came from outside of Spain.
BIOSPAIN is organized by ASEBIO, the Spanish Bioindustry Association and each edition is co-organized by a local institution from the host city/region. On the 2016 edition, Biospain is co-organized by the Basque Government through the SPRI, the Basque Business Development Agency.
Further information about the event by clicking here